Grand Bay National Estuarine Research Reserve (NERR) was designated into the National Estuarine Research Reserve System because of its ecological significance as a major estuarine system in the Gulf of Mexico. In addition to its habitat and species diversity associated with the Grand Bay area, it also is part of one of the least developed shoreline areas along the northern Gulf of Mexico.
The mission of the Reserve is to practice and promote informed stewardship of the Grand Bay NERR and Mississippi coastal resources through innovative research, education and training. This mission reflects our vision of valuing and conserving the broader Gulf of Mexico, being part of a regional effort to focus increased attention to the economic and environmental value of "America's Sea".
Staff and partners work collaboratively to address focus areas relating to habitat protection, climate change and water quality. To address these focus areas, we develop programs that increase scientific understanding and management of coastal resources, increase appreciation for the significance of coastal resources, and improve science-based decision-making regarding management of coastal resources.
The Grand Bay National Estuarine Research Reserve (NERR) Site Profile characterizes the environmental features, habitat types, species distribution and biological communities within the Reserve. The Site Profile was completed in 2007 and provided a starting point from which the Grand Bay NERR staff, resource managers and collaborators used to develop research, stewardship and educational activities. 
CHAPTER 1 INTRODUCTION TO THE GRAND BAY NATIONAL ESTUARINE RESEARCH RESERVE
CHAPTER 2 GEOLOGICAL FRAMEWORK AND EVOLUTIONARY HISTORY
CHAPTER 3 CLIMATE AND WEATHER OF COASTAL MISSISSIPPI
CHAPTER 4 HYDROLOGY
CHAPTER 5 HISTORICAL LAND AND WATER USE INSIDE AND ADJACENT TO THE RESERVE
CHAPTER 6 HISTORICAL WATER QUALITY
CHAPTER 7 WATER QUALITY
CHAPTER 8 POLLUTION IMPACTS
CHAPTER 9 HABITAT TYPES AND ASSOCIATED ECOLOGICAL COMMUNITIES
CHAPTER 10 VEGETATION
CHAPTER 11 MACROINFAUNA
CHAPTER 12 OYSTERS
CHAPTER 13 NEKTON
CHAPTER 14 REPTILES AND AMPHIBIANS
CHAPTER 15 BIRDLIFE OF THE GRAND BAY NEER/NWR AREA
CHAPTER 16 MAMMALS
CHAPTER 17 MONITORING AND RESEARCH NEEDS AT THE GRAND BAY NERR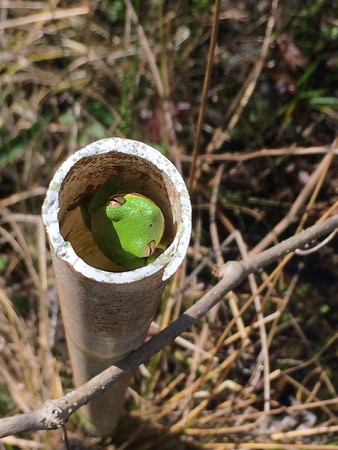 Guides, Handouts, and Forms