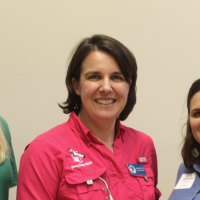 Dr. Gray is a research scientist who studies aquatic ecosystem function and the effectiveness of habitat restoration projects. She develops and conducts ecological research with her colleagues to better understand how fisheries are supported by wetlands, what mechanisms are most important, and how to develop cutting-edge tools and experimental designs to determine ecosystem function and recovery trajectories. She received her Ph.D. working with Charles "Si" Simenstad and the Wetland Ecosystem Team at the University of Washington's School of Aquatic and Fishery Sciences, and she also has a B.S. in Zoology from the University of Texas at Austin. Dr. Gray is also an artist who specializes in the ancient art of batik.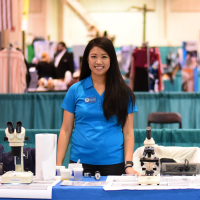 Sandra works on special programs pertaining to visitor experiences, which include planning and development of new exhibits and other facility upgrades. She also serves as the lead for Grand Bay NERR communications and organizes, coordinates, plans, and schedules all administrative activities, and helps keep daily operations at the Reserve functioning. She also plans and assists with the Reserve's outreach events, education programs, social media networking, and website updates, as well as spends plenty of time in the field with science staff. Sandra holds a Master of Science degree in Marine Resource Management with a Marine Education and Engagement focus from Oregon State University and has a Bachelor of Science degree in Biology from the University of South Alabama. Her science interests include plankton studies and geologic history of biological sites, as well as education research, program evaluations, and visitor studies. Her favorite pastimes include visual arts in various media, including nature and wedding photography.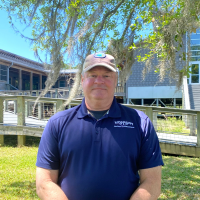 Hugh maintains Grand Bay NERR facilities, including major equipment, vehicles and boats, and everything else you can think of to keep our building and operations running. Hugh is a Moss Point, MS native and is related to the Bangs family of "Bangs Lake" in our Reserve- how cool! Previous to being our Facilities Manager, Hugh was an avid NERR volunteer who helped out with National Estuaries Day and Star Party. He is also a certified Mississippi Master Naturalist. Outside of work, you might find him jamming out to and playing music or finding delicious oysters to eat.
OUTREACH: COASTAL TRAINING PROGRAM AND EDUCATION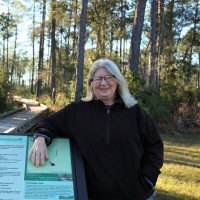 As the CTP Coordinator, Margo organizes and administers various trainings and workshops to provide coastal decision-makers with the knowledge and tools they need to address critical resource management issues that are of concern to local communities. The primary audiences for these trainings are local officials and staff, natural resource managers, and coastal scientists who work in coastal Mississippi. Margo holds a Bachelor of Science degree in Marine Biology from the University of West Florida and a Master of Marine Affairs from the University of Washington.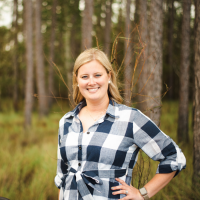 Avery serves as Grand Bay NERR's Education Coordinator, who is responsible for overseeing the education and outreach programs. These include programs associated with community and ecosystem resilience, various community and K-12 education programs, and the development of teacher workshops. She collaborates with the different sectors at Grand Bay NERR to integrate research and training into educational programs to build a community of environmental stewards. Avery holds a Bachelor's degree in Environmental Biology and a Master's degree in Biology Science Education, both from the University of Southern Mississippi.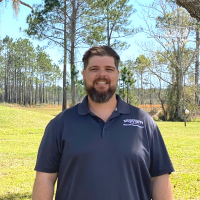 As the NERR's program development specialist, Dennis designs and implements programs that complement the science and activities already occurring at the reserve. Part of the development process is seeking external funding to make these programs a reality. Dennis also supports the implementation of our outreach programs by assisting with K-12 education activities and training workshops. He manages part of the Reserve's social networking, coordinates and tracks volunteer activities, provides help with a variety of field work, creates NERR-centric videos, provides husbandry to our resident terrapin, and undertakes other tasks as needed. Dennis promotes active stewardship, enhanced awareness, and educated science-based decision making through his position. His pastimes include hiking, kayaking, fishing, and SCUBA.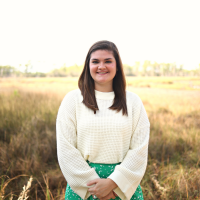 Jennifer is the Education Specialist here at the Grand Bay NERR. Her role at the reserve is to implement the "on-the-road" program bringing the science from the reserve into classrooms. She strives to continually improve the connection between the reserve and the community with a focus on the K-12 population. Jennifer holds a Bachelors degree in Marine Science from Samford University. After spending 4 years as a classroom teacher Jennifer joined the NERR to pair her passion for education and aquatic ecosystems. In her spare time Jennifer enjoys spending time with family outside on the water enjoying all the coast has to offer.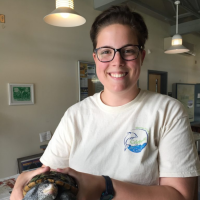 Brianna is the educator for the BRACKISH program, where she will be developing and implementing 8th grade curriculum on estuary education. Prior to this position, Bri was a research assistant at the NERR, where she was a graduate research assistant with Mississippi State University's Coastal Research & Extension Center. Brianna was previously the Outreach Intern in summer 2019. Brianna graduated from William Carey University in May 2019 with a Bachelors in Environmental Biology and a minor in Psychology, and she graduated with her Masters in Wildlife, Fisheries, and Aquaculture from Mississippi State University. In her downtime, she enjoys reading, listening to music, spending time with family and friends, collecting vintage cameras, and travelling.
SCIENCE: RESEARCH AND STEWARDSHIP
Jonathan is the Stewardship Coordinator at the Grand Bay NERR. He holds a B.S. in Zoology from Auburn University, an M.S. in Biology from Appalachian State University, and a Ph.D. in Natural Resource Science from West Virginia University. He has been involved in a variety of ecological research projects from studying the spatial distribution of bottlenose dolphins and sea turtles in the Mississippi Sound to understanding the effects of wetland restoration in West Virginia. Jonathan joined the NERR team in 2016 and is working closely with Stewardship and Research staff to understand long-term changes in NERR resources through the "Sentinel Site Program" and to implement and monitor restoration of aquatic and terrestrial habitats. He also enjoys working with Education and Outreach staff to communicate the purpose of long-term monitoring and the principles of stewardship to school groups and the public. Jonathan hails from Abbeville, AL and is an avid fan of the Auburn Tigers…War Eagle!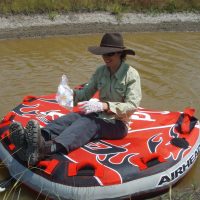 Jenn is the Research Coordinator at Grand Bay NERR. She has a Bachelor's of Science degree in Wildlife and Fisheries from Texas A&M University, and a Master's and Ph.D. in Animal Behavior from the University of California – Davis. She's had a long career working with coastal and marine environments, working at, and with, NOAA's National Marine Sanctuaries and Fisheries Service, and the Smithsonian Institution. Prior to moving to Alabama, she was in Australia working with James Cook University's Catchment to Reef Research Group, investigating the connections between upstream impacts on downstream systems within the Great Barrier Reef lagoon. In Alabama, she taught Oceanography at the University of South Alabama and Dauphin Island Sea Lab and worked with Dr. Robertson's Ecotoxicology lab. Her main research focus has been on chemical ecology and understanding these 'hidden' connections between systems and organisms.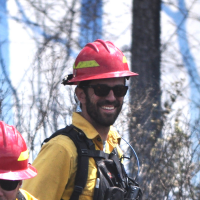 As part of the Stewardship Sector, Jay coordinates and assists with research and stewardship efforts at the Grand Bay NERR. His duties also include integrating with university researchers and government agencies on a variety of natural resource management projects. Prescribed fire and invasive species control are among the top of his resource management interests. Some of Jay's other research and personal interests include: submerged aquatic vegetation monitoring, a dendrochronological study of local pine savannas and flatwoods, wildlife and landscape photography, and music.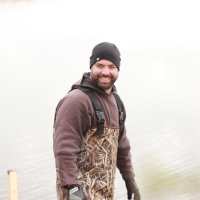 Mike is working on a project to determine the peak above- and below-ground biomass for the Grand Bay marshes. This information will be helpful in determining marsh response to sea level rise. He also conducts extensive field sampling with the Stewardship team as part of our Sentinel Site program, provides other field assistance as needed and works with the prescribed fire team in controlling the field burns set by reserves and other organizations. In addition, Mike oversees our debris cleaning efforts. Mike completed his Bachelor's in Accounting at Loyola College in Maryland and his Master's in Environmental Science at Drexel University.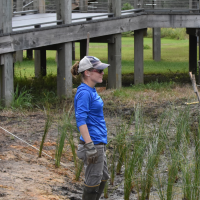 Cassy has worked for the Grand Bay NERR since 2018 where she started off as an intern and quickly found herself as the Wetlands Resource Specialist until May of 2021 when she became the NERR's System Wide Monitoring Program (SWMP) Manager. She earned her Bachelor of Science degree in Biology from the University of Southern MS in 2015 and her Master of Science degree in Environmental Policy and Management from American Public University in 2020. During her time at the NERR, she has assisted with numerous monitoring projects including NRDA vegetation monitoring, NRDA avian monitoring, and Sentinel Site monitoring. She has also been involved with our upland restoration work including prescribed fire and invasive species management in our longleaf pine savannas. Cassy is dedicated to understanding more about estuarine environments and how we can mitigate for future climate change and projected sea level rise throughout our coastal regions.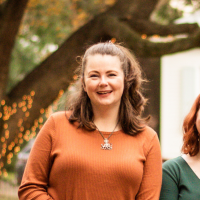 As the SWMP Technician, Elizabeth assists in the implementation of the SWMP program by working closely with the SWMP Manager to collect water quality data, which include collection and maintenance of water quality data loggers, use and maintenance of hand-held water quality instruments, nutrient and chlorophyll sampling and analysis, weather station maintenance, and other tasks as needed. She is interested in estuary monitoring primarily through the analysis of water quality, to look at how anthropogenic and natural changes affect the ecosystem. She is also interested in educating the public about the importance of estuaries and the environment in general, and was previously the NERR Outreach Intern in summer 2018. She graduated from The University of Southern Mississippi in 2018 with a degree in Environmental Biology and a minor in Chemistry. In her downtime Elizabeth enjoys hiking, fishing, reading, kayaking, and attempting water coloring.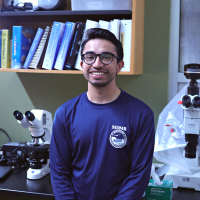 Jeneil is an Extension Program Associate through Mississippi State University based at Grand Bay NERR as a SWMP Technician. Prior to his time at Grand Bay NERR, he worked as both an aquatic biology research technician and analytical laboratory assistant at the Jones Center at Ichauway. Jeneil holds a bachelor's degree from the University of Tennessee at Chattanooga, majoring in Biology and minoring in Chemistry and Environmental Science. He enjoys his free time listening to music, drawing, reading, and hiking.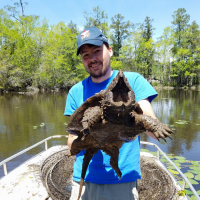 Andrew is a Resource Monitoring Specialist at the Grand Bay NERR. His research and natural resource management interests include long-term monitoring of plant, bird, and herp communities and their responses to pine savanna management and restoration. Prior to his time at Grand Bay NERR he was involved in a variety of research projects including the ecology/conservation of herpetofauna, stranding response and population assessments of marine mammals and turtles, and the ecotoxicology of metals. He holds a Bachelor of Science degree in Environmental Biology from the University of Southern Mississippi and a Master of Science degree in Biology from the University of South Alabama.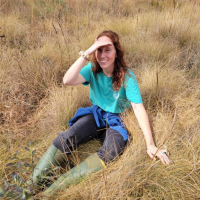 Emmett assists with vegetation and bird monitoring surveys at the Grand Bay NERR. She enjoys learning about and assisting with other ongoing projects and hopes to start some of her own. Emmett is also working on establishing and creating an online herbarium featuring plant species that have been collected from the reserve. She has earned a B.S. from Auburn University in Marine Biology, and M.S. from the University of South Alabama in Marine Conservation and Resource Management. Growing up nearby the Chesapeake Bay and being involved in Girl Scouts from an early age sparked her love of nature and conservation. In her free time, she enjoys going to the beach, supporting local music and arts, and exploring new places.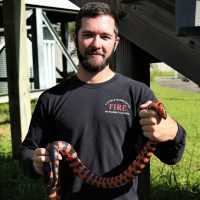 Jacob is the Upland Restoration Specialist and facilitates communication between the Grand Bay NERR and landowners that have private inholdings within the NERR. Developing relationships with private landowners is essential for the purpose of managing more acres of habitat within the NERR. He also assists with the management and monitoring efforts at the NERR by controlling the feral hog population, utilizing drones and GIS software to manage and create geospatial products, and assisting with prescribed fire, bird surveys, vegetation surveys, and camera trapping. He holds a Bachelor of Science degree in Geography from the University of Southern Mississippi. He is an Eagle Scout and avid outdoorsman, filling his free time with hunting, fishing, kayaking, camping, hiking, and playing guitar. Jacob was previously the Restoration Monitoring Intern, Stewardship Assistant, and Wetlands Resource Specialist.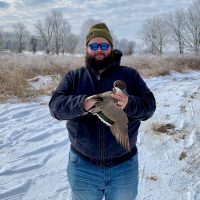 Nate assists with the wild boar management and other monitoring efforts at the Grand Bay NERR. He enjoys assisting on other various projects at the NERR with hopes to start a few of his own on understanding waterfowl use at the NERR. Nate hails from central Kentucky where he grew up loving the outdoors ultimately leading him to gain a Bachelor of Science in Wildlife Management from Eastern Kentucky University. In his downtime Nate enjoys hunting, fishing, and attending sporting events. GO CATS!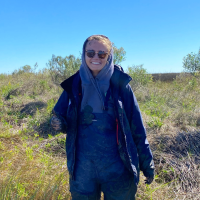 Amanda is a research assistant at the NERR and working towards her Master's degree through the Mississippi State University Coastal Research and Extension Center. Her project will be focused on tracking fecal coliform sources in the estuary. Amanda graduated from Mississippi State University in November 2020 with a major in Biochemistry and a minor in Animal and Dairy Sciences and Spanish. She enjoys backpacking, kayaking, fishing, and spending time with friends and family.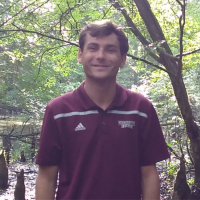 Matthew Virden | Margaret Davidson Fellow 2020-2022
Matthew is originally from Montgomery, AL. He works at Mississippi State University Extension Center in Biloxi, MS. He graduated from MSU with a Bachelor's degree in Wildlife, Fisheries and Aquaculture in 2018 and completed his Master's degree in 2021. Currently, Matthew is working towards a Ph.D. His current research interests are coastal restoration, wave energy dynamics, and remote sensing. He is also a big fan of Mississippi State athletics.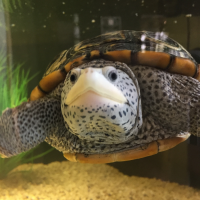 Tobi | Resident Diamondback Terrapin
Tobi is a female diamondback terrapin who came to us from the Institute of Marine Mammals Studies in 2015. She helps to educate the public on diamondback terrapins in the wild. Diamondback terrapins (Malaclymys terrapin) are the only known species of turtle in North America that spend its life in brackish water (water that is a mixture of salt and fresh water). They are prominent in Gulf Coast marshes, estuaries, and tidal creeks.
Stop by and say hi to Tobi today!
PAST NERR STAFF AND INTERNS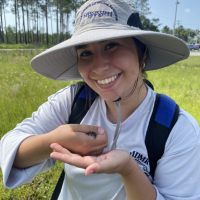 Juliana Heise | Estuarine Ecology Intern 2023 (June - July 2023
Juliana was born and raised in the Biloxi Bay area. As a senior at the University of South Alabama, she is finishing her bachelor's degree in civil engineering, with interests in coastal and environmental conservation and healthy city development. At the GBNERR, she assists with SWMP activities and other ongoing research projects in regards to uplands restoration and monitoring. Juliana enjoys creative activities such as drawing, painting, and writing pysanky. If not in class or work, she can typically be found on the beach or camping somewhere.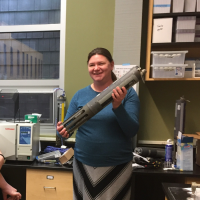 Kim Cressman | Research Coordinator (January 2011 - October 2022)
Kim was the Research Coordinator at Grand Bay NERR. Before that, she spent almost 10 years as Grand Bay's System-Wide Monitoring Program (SWMP) Coordinator. Kim has extensive experience with water quality monitoring in a variety of freshwater and coastal ecosystems. She has also spent time working in environmental education and science communication. She has a Bachelor of Science degree in Biology, a Master of Science degree in Marine Biology, and a Master of Applied Statistics degree. Kim is dedicated to collecting high-quality, well-documented data, and turning that data into information to be used for effective coastal resource management.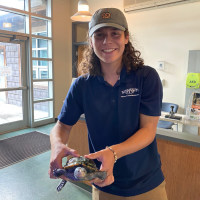 Jacob Krance | Estuarine Ecology Intern (June - July 2022)
Jacob currently resides in Ocean Springs, MS, and is pursuing a bachelor's degree in Wildlife, Fisheries, and Aquaculture with a concentration in Conservation Biology at Mississippi State University. During his internship, he assisted with and attended various educational programs and workshops, performed multiple vegetation, fish, and terrapin nest surveys, and learned about different career paths within the biological sciences through visitation and discussion with professionals and personnel at various facilities. Jacob enjoys reading as well as watching and playing soccer in his free time.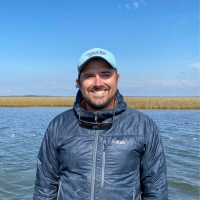 Michael Brochard | Stewardship Assistant (November 2019 - July 2022)
Michael assists the Stewardship team in every aspect, including monitoring and land management activities such as vegetation monitoring and assisting with prescribed fires. He has extensive experience in marine fisheries, and at the NERR he conducts biological field sampling, data entry, and analysis for various projects involving the NERR fish community and pine savanna restoration area basal measurements. He assists in shoreline erosion monitoring using an RTK (real-time kinematic positioning device), and helps other teams at the NERR and external researchers from USGS and Mississippi State University in the field. Michael is an Ocean Springs, MS native.
Paul Frye | Estuarine Ecology Intern (June - August 2021)
Paul is seeking a bachelor's degree in Marine Science (Hydrography) and a minor in Geography from the University of Southern Mississippi. Paul lives in Gautier, MS and is an avid fisherman and hunter.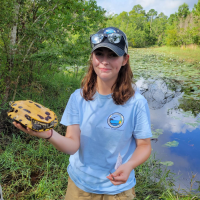 Lauren Kegley | Estuarine Ecology Intern (June - August 2021)

Lauren was born and raised on the Gulf Coast. She is currently pursuing a bachelor's degree in Marine Science (Hydrography) at the University of Southern Mississippi Gulf Park campus. Her academic interests are in marine biology and ecology. Lauren's past times include long walks on anything but the beach and jigsaw puzzles.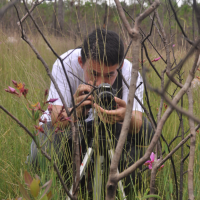 Chris Huynh | GBNERR Assistant (October 2019 – October 2020)
Chris was the GBNERR Assistant. His primary project focused on updating the latest editions of our plant and bird guides. He also assisted in other outreach activities as needed. Chris is a PC enthusiast and in his spare time, he enjoys building computers, engaging in the arts, testing new recipes, and fishing offshore. Chris is currently a 3D designer for ships in Newport News, VA.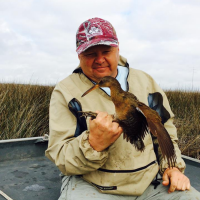 Mark Woodrey, Ph.D. | Research Coordinator (August 2002 – June 2020)
Dr. Mark Woodrey is a research biologist at the Mississippi State University Coastal Research and Extension Center (MSU CREC) and served as the Research Coordinator at the Grand Bay NERR for 18 years. Trained as an ornithologist, he is currently studying ecology of tidal marsh birds and using marsh birds as an indicator of restoration success. In addition, his collaborative research efforts focus on human impacts on coastal habitats, the effects of global climate change on coastal plants and animals, ecosystem effects of mercury, and the role of terrestrial vertebrates in tidal marshes. Ultimately, Mark's goal is to better understand coastal ecosystems to allow natural resource managers to make more informed conservation decisions. Mark is now working full time at the MSU CREC as Research Faculty, but you might still see him at some of our NERR events!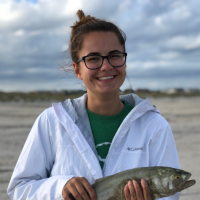 McKenna Koons | SWMP Assistant (December 2018- August 2019)
As the SWMP Assistant, McKenna worked closely with the SWMP Coordinator and the SWMP Technician to collect and analyze water samples, maintain equipment, and learn how things operate at the NERR. She has experience with water quality data collection and field work from her time on the Intelligent River Project on the Savannah River. McKenna is an Ohio native but lived on Bald Head Island, NC where she worked for a small nonprofit on the island as an Education and Conservation Intern before coming to Grand Bay NERR. McKenna is currently the SWMP Technician at Hudson Bay NERR in New York.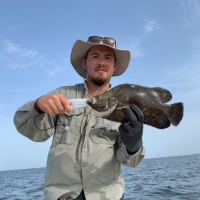 Daniel Taylor | Estuarine Ecology Intern (June 2019 – August 2019)
Daniel assisted with various research and stewardship projects as the summer Estuarine Ecology Intern. He helped with the System Wide Monitoring Program and water quality monitoring, and works with fish processing, vegetation monitoring, and the phenology trail monitoring. He is interested in fisheries and associated systems. In his leisure time, he enjoys outdoor recreational activities such as boating, fishing, and hunting. Daniel has a Bachelor's degree in Wildlife, Fisheries, and Aquaculture at Mississippi State University. After graduate school, Daniel came back to MDMR and is now a Marine Fisheries Scientist in the Shrimp & Crab bureau in the Department of Marine Fisheries.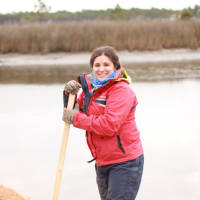 Cher Griffin | Coastal Ecologist (November 2014 – July 2019)
Cher was working on a project to determine the relationship between estuarine fish assemblages and habitat types in Grand Bay. This information will help determine the productivity of Mississippi's estuarine marshes as nursery habitat for commercial and non-commercial fish populations. She also worked on projects to evaluate restoration efforts in Grand Bay for their impact to fish and invertebrates. Cher provided assistance to the Stewardship team in terms of GIS, database management, and other field assistance as needed. Previous to the Coastal Ecologist position, Cher was the SWMP Technician. Cher completed her Bachelor's and Master's at University of Southern Mississippi, Gulf Coast Research Laboratory. She is continuing her new adventures as a high school science teacher in the local area.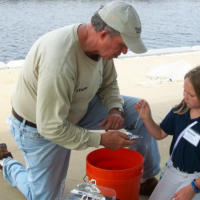 Rick Ranew | K-12 Specialist (February 2010 – June 2019)
Rick primarily ran the K-12 'On the Road' program at the NERR. Rick worked with other staff members to design and implement programs that address current coastal issues on the school level from kindergarten to twelfth grade. Rick worked with the Education Coordinator to prioritize a list of topics that can be developed into teacher workshops and activities for students, encouraging stewardship and knowledge of our diverse coastal habitats. Ultimately, his goal is to inspire future generations to become good and knowledgeable stewards of our fragile coastal environments. He is currently enjoying retirement with his wife, 13 grand-kids, and spends time in his garden and travelling.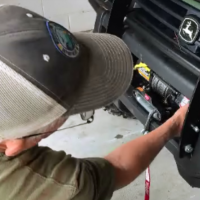 Brian Hurst | Building Manager (September 2014- June 2019)
As building manager, Brian maintained the Grand Bay NERR facility and grounds, as well as our dormitories and outdoors facilities. He assured that all equipment was in working order, cleaned, and properly maintained. He is retired and looking forward to traveling west to visit more national parks with his wife, but he has recently come back to the MDMR to work at the Lyman Aquaculture Hatchery.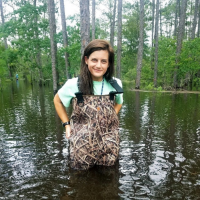 Caitlin Sanderson Raines | SWMP Technician (July 2017- August 2018)
Caitlin graduated from the University of South Alabama in December of 2016 with a Bachelor's degree in Biology with a concentration in Environmental Science. Caitlin's position with GBNERR was SWMP Technician, and she was the NERR Estuarine Ecology Intern from April-June 2017 before she was hired on full time. She hopes to go back to school to continue education towards a Master's Degree. While mostly undecided on what field to study, she has a strong interest in birds and Ornithology. Outside of work, she likes to stay active doing things such as exercising and kayaking, as well as reading and spending time with her pets and family. She is currently an Environmental Engineer at Ingalls.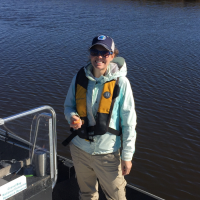 Sarah Cunningham | NERR Intern (November 2017- July 2018)
Sarah interned at both the Grand Bay NERR and MSU's Coastal Research and Extension Center. At the NERR, she assisted with several ongoing projects, including SWMP data collection, estuarine fish assemblages, and various outreach and education events. She is interested in estuarine ecology and in engaging the public to better appreciate and conserve estuarine resources. To this end, she received her Bachelor's in Environmental Science from the University of Texas in 2015, and plans to return for her Master's. Ultimately, her goal is to work in mangrove ecosystems. Sarah is currently the Coastal Training Program Coordinator at Mission-Aransas NERR in Texas.