Thank you for your interest in employment with the Grand Bay National Estuarine Research Reserve!
If you are interested in getting notifications about upcoming vacancies, please email your resume to hr@dmr.ms.gov.  Your resume will be kept on file for six months after which it will become inactive. Submission of a resume is not a substitute for completing an employment application. 
Grand Bay NERR is currently not recruiting for full-time positions. Please check back here occasionally or follow our social media for updates.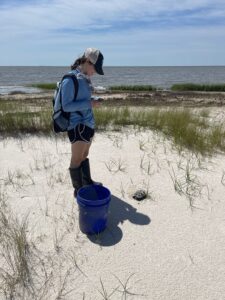 Summer Internships
The Mississippi Department of Marine Resources has a summer internship program for current and recently graduated undergraduate students. Check out the MDMR Employment page each spring for the announcement and application. Grand Bay NERR has had Estuarine Ecology Interns and Outreach Interns, so if you're interested in working at the NERR for a summer, apply!
Directed Studies/Internships for class
Students taking a directed studies or internship course at their school are encouraged to reach out to Grand Bay NERR staff for volunteer intern projects or general experience in the field. 
Meet the Staff
Brianna Andrews is the BRACKISH Educator.
She began her Grand Bay NERR career as an MDMR Summer Intern.