There are many ways to explore the outdoors at Grand Bay NERR! We have great opportunities for the paddler, boater, fisher, photographer, artist, educator, and more! For any of our outdoor activities, we recommend you check the weather and be mindful of warmer seasons with pop-up showers, heat, and bugs! Don't forget your sunscreen, bug spray, and drinking water.
Explore our newest walking trail loop with an entrance off our Savanna Trail Boardwalk or on the northern end of our parking lot (look for the trailhead sign). Immerse yourself in nature and discover the unique flora and fauna of a pine savanna. View longleaf pine trees, frogs and toads, pollinators, and seasonal wildflowers. The trail is approximately 1 mile.
The trail does feature a wet pine savanna, so boots or outdoor shoes are highly recommended.
Completed in August 2016, our Savanna Trail Boardwalk takes you from our Grand Bay Coastal Resources Center to a freshwater marsh. As you walk along the 1000 ft trail, notice the differences in plants and animals as you make your way towards the end. Try to find cool lizards and skinks sunning on the boardwalk, or capture pictures of colorful dragonflies perched on plants. Birding along this trail is most enjoyable and successful during the periods of spring and fall migration. 
Don't forget to look for osprey nests in the adjacent power easement! You may see bald eagles there in the winter months but in late February and early March, our ospreys start to come back for nesting season.
Public access to the Savanna Trail Boardwalk can be through the Grand Bay Coastal Resources Center during public hours, or it's just a short walk along the gravel pathway around our building if you're visiting outside of public hours. In the meantime, here's a virtual boardwalk tour.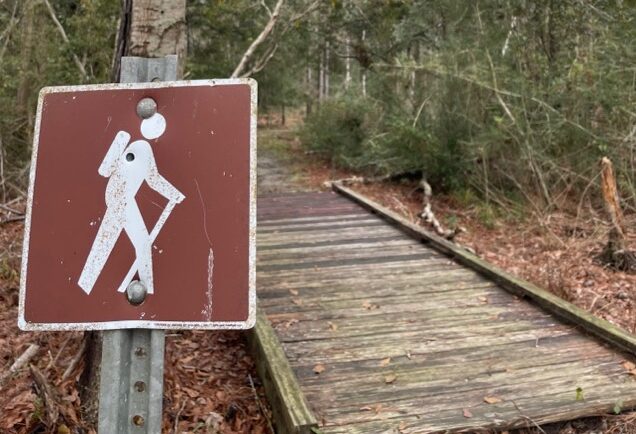 The Oak Grove Birding Trail is just off Bayou Heron Road, south of the Grand Bay Coastal Resources Center.  This 0.5 mile trail is a maritime, mixed hardwood forest intermingled with pines that slope down towards the marshes that border the upper reaches of Bayou Heron. Birding along this trail is most enjoyable and successful during the periods of spring and fall migration. Migrants such as Yellow Warblers, Redstarts and Scarlet Tanagers are some of the most common birds found here in the spring.
The Oak Grove Birding Trail is free and open to the public daily during daylight hours.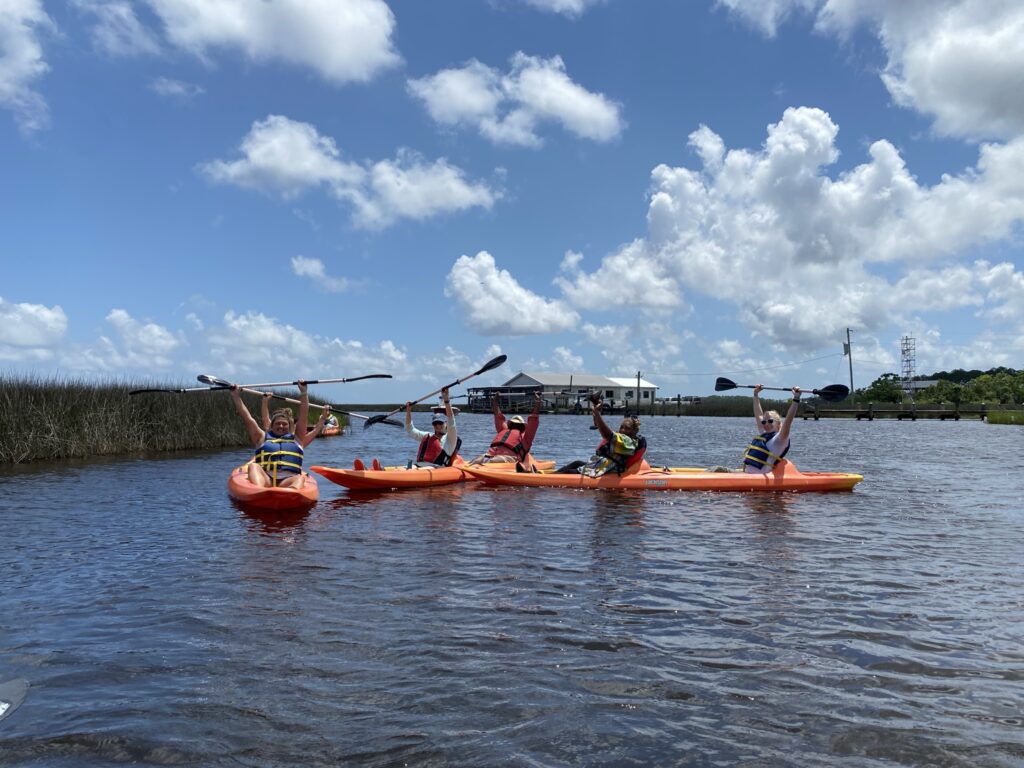 The Reserve offers a variety of paddling experiences.  Relatively calm waters exist in the bayous and tidal creeks and are well suited for recreational and touring kayaks as well as canoes.  Those willing to paddle out to the Reserve's bays and open water will experience more wave action and wind exposure.  Sea or touring kayaks are better suited to the open water environments.
For access on Bayou Heron: a free public boat launch is located at the end of Bayou Heron Road.  For access on Bayou Cumbest:  the Point o' Pines boat launch on Grand Battures Road is privately owned and charges a small fee ($5) to launch and is closer the main stretch of Bayou Cumbest. A public boat launch is located on Bayou Cumbest Road and is free. 
*Note: Grand Bay NERR does not rent out kayaks, so please bring your own.
Nature Photography & Viewing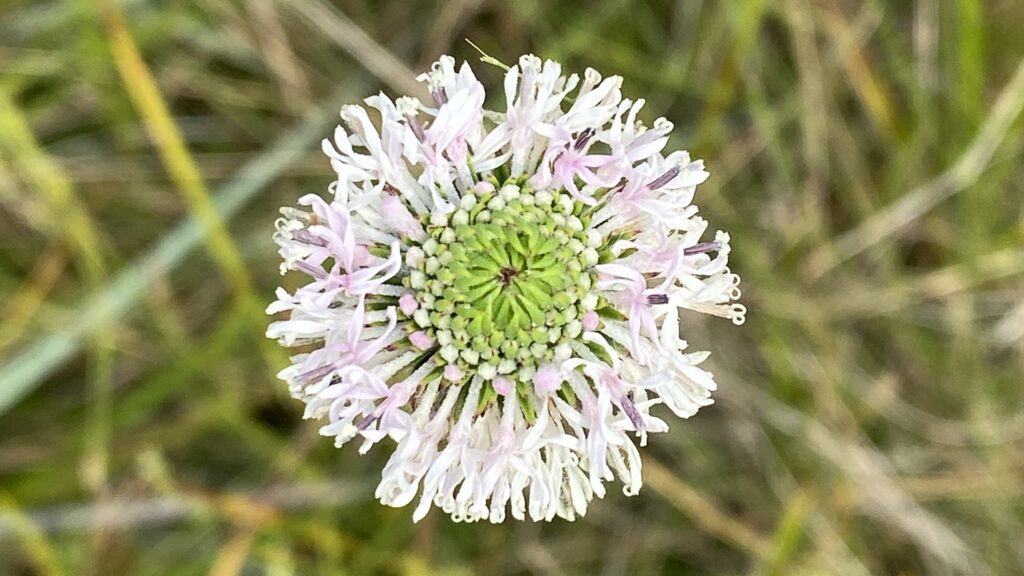 Beautiful, relatively pristine habitats across the Reserve offer great opportunities for landscape photography and viewing rare plants and animals. Several species of carnivorous plants and orchids can be observed, as well as birds, butterflies, dragonflies, turtles, and the occasional American Alligator. Please remain on public road and trails, and be aware that many Reserve habitats are sensitive to disturbance. Take only pictures, and please do not disturb or remove any plants or animals. We have produced a free guide, Selected Plants of Coastal Mississippi and Alabama to help you identify commonly occurring plant species.
If you have the iNaturalist app, make sure to record some observations while you're exploring!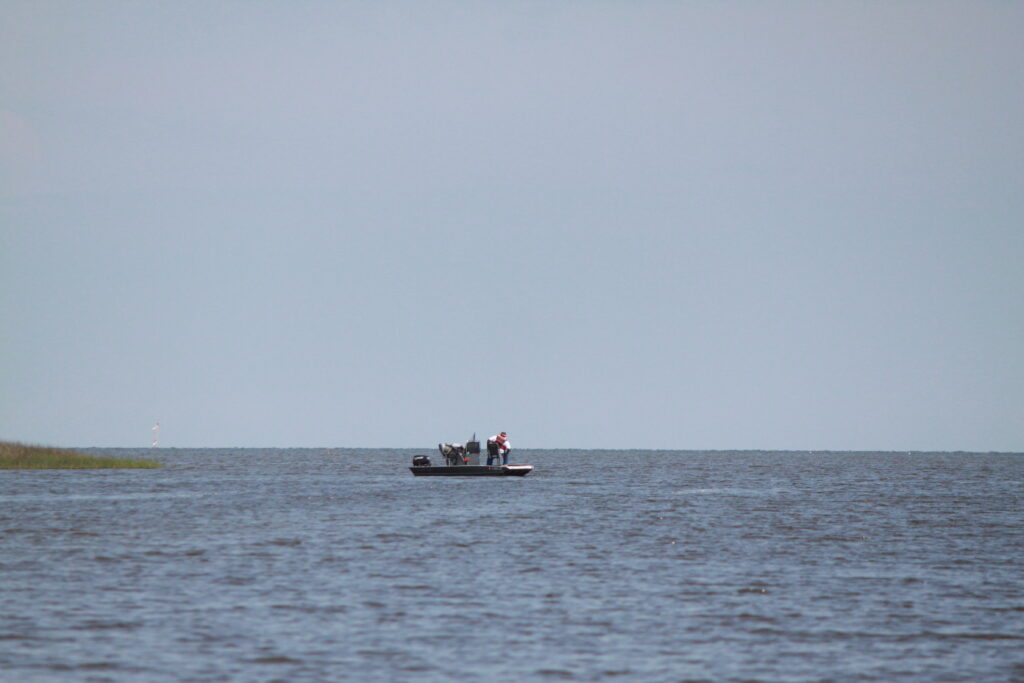 A free public boat launch and a handicapped-accessible fishing pier are located at the end of Bayou Heron Road, about three miles south of the Coastal Resources Center, on Bayou Heron.  The pier is suitable for fishing and crabbing. The waters of the reserve are shallow, especially at low tide; only boats that draft a minimal amount of water should attempt to navigate outside of Bayou Heron.  You can also launch into Grand Bay NERR from the Point o' Pines or Bayou Cumbest boat launches (see links to locations in Kayak section above). 
Unless you are exempt (under 16 or a Mississippi resident over 65), a Mississippi saltwater fishing license is required when fishing in the Reserve's tidal waters.